(pre)Birthday weekend actually kicked off last Thursday when The Girlssss arrived at my place after a stormy drive. Not only did they show up with cupcakes but also with my favorite pear cider (Sir Perry's), super thoughtful birthday gifts and a bunch of my favorite goodies from Trader Joe's.
The most hilarious part of the gifts was this matryshka doll oven mitt. Years ago I came up with a ridiculous matryshka doll dance move, and by dance move I mean like the water sprinkler is a dance move, they've been a joke ever since.
The celebration continued the next day when my department celebrated the 3 birthdays occuring in the next week with decorated desks and a pizza lunch. That afternoon, in honour of May the 4th, we had a rip-off of a comic-con costume contest as a floor activity. The idea was to have the best worst costume and our group rocked it, dressing up as characters/things from Super Mario. I was the gold coins and my costume consisted of circles of sparkly gold paper taped to a black scarf, a gold headband and Werther's candy to throw to the crowd. And this is why I work in marketing.
Friday we had dinner at an irish pub on the waterfront, I had the lobster club and some Strongbow. I wouldn't order the club again but the fries and Strongbow were delish!
After dinner we walked up to the arena for Stars on Ice. They made a lot of changes to the show this year and put Kurt in charge of choreography for the first time. They should have done this years ago because he knocked it out of the park, the show was the best it's been in years. It's been a while since I've gone to a skating competition or show and enjoyed myself like that, it took us all back to the "good old days" of skating.
'Twas a fun night.
Canadian $ has always been colourful, now it's also see-through (and amusing).
The next morning it *only* took us two and a half hours to get going and hit the road for my hometown.
Along the way we stopped for some of the best cupcakes in the Toronto area (breakfast of champions) from The Social Cupcake in Port Credit.

Red Velvet, Guiness Baileys, Strawberry Banana (AMAZING) and Cookies and Cream.
Lunch was courtesy of one of my fave vegan restaurants/bakeries, Kind Food in Burlington.

(we saved the cupcakes for the next day)
Once we got into Hamilton we did some local shopping, including stores co-owned by friends from school. How am I old enough to have friends who are local business owners? WEIRD! At one of the stores I bought myself an awesome scarf made of fabric from dress shirts, sounds weird but it's awesome. James st North is not to be missed!
We also did some light hiking to visit waterfalls and ruins in the area. It was hilarious trying to remember where to find all these places, I only got us a little lost.
Tiffany Falls
Ancaster – heritage house on the Bruce Trail, The Hermitage ruins and Tews Falls
Overlooking the city at sunset and a monster super moon.
Dinner was at another one of my favourite places, the Earth to Table Bread Bar! We had smoked salmon, mushrooms and brie pizzas (3 different ones) and they were all to die for. Seriously, some of the best pizza's I've ever had.
We lucked out with more great weather on Sunday and walked around the shops in Yorkville. I ended up with an awesome shirt from Anthropologie, i hope the pic shows up – I got mine in white though I was tempted to buy it in a few colours.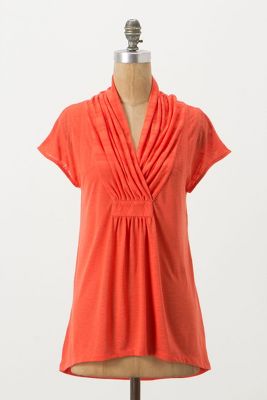 I also finally tried on a pair of Toms ballet flats, they were so comfy but showed toe cleave so I didn't get them. Guess I'll stick to regular Toms, my fave ugly but comfy shoes.
We brunched at Sassafraz, a local institution, known for attracting famous people and delicious food. I ordered my usual brunch fair, zee poached egg, though I usually order them with smoked salmon but it wasn't on the menu this time. Turns out I should have asked because I later saw someone with my usual.
The food was top notch but the guy at the table next to us was so obnoxious I felt bad for our server. Among other thing, he wanted "fresh ground pepper" for every single thing that came to their table, I wanted to grind the pepper into his eyeballs by the end of brunch.
We did more shopping in Kensington, one of the funkier areas of the city, and then grab slices of pie at Wanda's Pie in the Sky before the girls had to vamanos.
I'm always sad to see them go but it was an awesome weekend! Love you Girls!